BAJAJ 25 L Storage Water Geyser (Majesty PC Deluxe, Black, Multicolor)
Storage Geyser
25 L
8 Bar Pressure
Vertically Mounted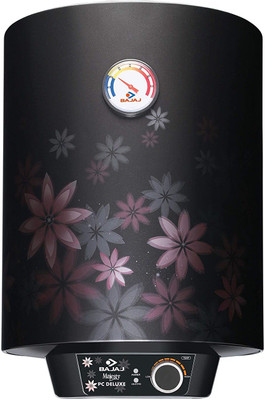 BAJAJ 25 L Storage Water Geyser (Majesty PC Deluxe, Black, Multicolor)
BAJAJ 25 L Storage Water Geyser (Majesty PC Deluxe, Black, Multicolor) Prices
Description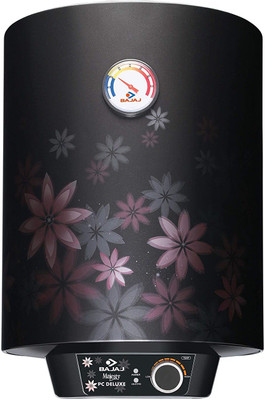 Usually Delivered within 7 days.
Please write few lines describing your product along with a list of products that are compatible with this product. Description is limited to 1000 characters (including spaces). It should not include any hyperlinks, additional offers, or promotion text.
10% off on Citi Credit and Debit Cards
10% off on Bank of Baroda Credit Cards
10% off on Citi Credit Card EMI Transactions
Win a cashback coupon: Big Billion Days 2022
Buy this product and get upto ₹500
5% Cashback on Flipkart Axis Bank Card
Sign up for Pay Later and get Rs150 Gift Card
Rs.

9,870

Rs. 10,790
in stock
Create Your Free Price Drop Alert!
Additional information
Specification:
BAJAJ 25 L Storage Water Geyser (Majesty PC Deluxe, Black, Multicolor)
| | |
| --- | --- |
| Brand | BAJAJ |
| Model Name | Majesty PC Deluxe |
| Capacity | 25 L |
| Color | Black, Multicolor |
| Type | Storage |
| Mount Type | Vertical |
| Star Rating | 4 |
| Suitable For | High-rise Bulidings::High Pressure, Suitable For refers to the list of areas that the water geyser is most suitable for. Possible values are High Pressure, High-rise Buildings, etc. |
| Technology Used | Heat Sensing Technology, Technology Used refers to the particular technology that the product comes with. Technology is usually brand specific. Possible values are Heat Sensing Technology, Nano Heating, etc. |
| Rated Pressure | 8 Bar |
| Temperature Range | 25 – 75 degree C |
| Adjustable Thermostat | Yes |
| Water Flow Rate | 180.6 L/hr |
| Earth Leakage Circuit Breaker | Yes |
| Thermal Cutoff | Yes |
| Heating Element | Glass Lined Incoloy, Heating Element refers to the element which converts the electricity into heat. Possible values are Glass Lined Incoloy, Nickel Chromium Alloy, etc. |
| Multi Function Valve | Yes |
| Other Performance Features | Turbo Heating::Salt Filter, Other Performance Features refers to any additional information on the performance features of the product that would be useful to a customer. Possible values are Turbo Heating, Salt Filter, etc. |
| Gas Consumption | 1.5 kg/hr |
| Body Material | Acrylonitrile Butadiene Styrene, Body Material refers to the substance used to make the body of the geyser. Possible values are Acrylonitrile Butadiene Styrene, Aluminum, etc. |
| Tank Material | Stainless Steel, Tank Material refers to the substance used to make the tank of the water geyser. Possible values are Stainless Steel, Aluminium, etc. |
| Tank Insulation Material | PUF, Tank Insulation Material refers to the insulation substances used in the tank to resist the flow of electric current. Possible values are PUF, Vermiculite, Polystyrene, etc. |
| Other Body Features | Dummy::Dummy, Other Body Features refers to any additional information on the body features of the product that would be useful to a customer. |
| Indicators | Heat Indicator::Temperature Dial Indicator, Indicators refers to various indicators that the product comes with. Possible values are Heat Indicator, Power Indicator, etc. |
| Timer | Yes |
| Automatic Shut Off | Yes |
| Adjustable Temperature Knob | Yes |
| Other Convenience Features | Other Convenience Features refers to any additional information on the convenience features of the product that would be useful to a customer. |
| Power Consumption | 2000 W |
| Power Requirement | 110 – 120 V::50 Hz, Power Requirement refers to the voltage (V) and frequency (Hz) rating of a product. Possible values are 110-120 V, 50/60 Hz, 240 V, 60 Hz, etc. |
| Other Power Features | Other Power Features refers to any additional information on the power features of the product that would be useful to a customer. |
| Fusible Valve | Yes |
| Rust Resistant | Yes |
| Fire Retardant Cable | Yes |
| Heating Time | 50 – 55 min |
| Certification | FSC Certified::Greenguard Certified, Certification refers to a document prepared/hallmark by an expert/notified body that describes and validates the authenticity and key characteristics of a product. Possible values are FSC Certified, Greenguard Certified, BPA Free, etc. |
| Other Features | Other Features refers to any additional information on the features of the product that would be useful to a customer. |
| Width | 43.3 cm |
| Height | 57 cm |
| Depth | 43.3 cm |
| Weight | 12.8 kg |
| Other Dimensions | Other Dimensions refers to any additional information on the dimensions of the product that would be useful to a customer.Other Dimensions refers to any additional information on the dimensions of the product that would be useful to a customer. |
| Warranty Summary | Warranty : 2 years on product |
| Covered in Warranty | Bajaj Electricals Products are warrantied solely against poor worksmanship, manufacturing defect and use of faulty material only. Consequential liabilites will not be entertained. All Bajaj Electricals products are designed for domestic usage only. |
| Not Covered in Warranty | The warranty does not cover accessories external to the product. It does not cover demostration/installation of the product purchased. Read the Warranty card for more information |
| Warranty Service Type | Customer care no. – 18001025963/022-41280000 |
Reviews (10)
10 reviews for
BAJAJ 25 L Storage Water Geyser (Majesty PC Deluxe, Black, Multicolor)